XPath view
Click View > XPath to show and focus the XPath view.
The
XPath view
lets you select nodes in an XML Document using XPath expressions. For more information, see
Using XPath
.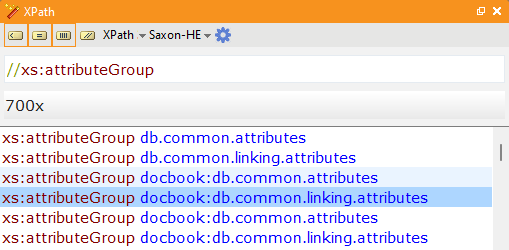 The icons provide means to customize the view:
•
show/hide element name
•
show/hide attributes
•
show/hide text
•
show/hide xpath
Welcome!
Introducing XMLBlueprint
Working with files
Working with text
Creating and Editing XML
Validating XML
Working with XSLT
Working with XPath
Working with XProc
Working with JSON
Working with HTML, CSS and JavaScript
Working with XML Catalogs
Converting CSV files and Excel files
Generating Sample XML
Generating DTDs and Schemas
Customizing XMLBlueprint
Automating XMLBlueprint
Regular Expressions
Non-English Support
Appendix