Indentation Preferences
Click Preferences > Indentation... to specify how XMLBlueprint should indent your documents.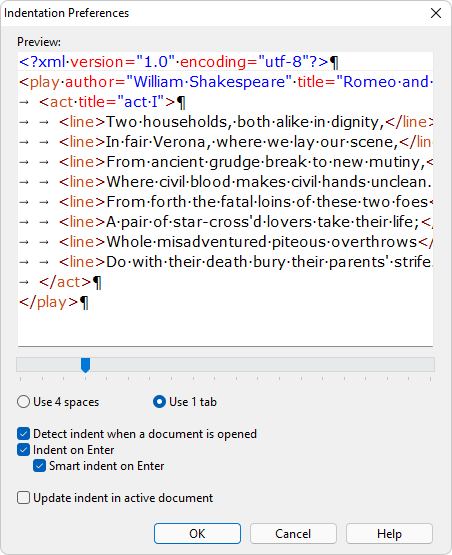 •
Use the sliderbar to specify the Indent Size
•
Use the radio buttons to specify whether XMLBlueprint should use Spaces for indentation or Tabs.
•
Use the check boxes to specify when the indentation will be invoked.
The preview shows how your settings will appear in the XML Editor.
The indentation you specify is used:
•
when the TAB key is pressed.
•
when the document is formatted (XML > Format Document).
•
when the document is automatically formatted when it is opened.
•
when one or more lines are indented (Edit > Increase Indent) or unindented (Edit > Decrease Indent).
Indentation within existing documents
Check Detect indent when a document is opened to use the indentation of the document you are opening in stead of the indentation as specified in this dialog. This way you can edit someone else's documents without changing the document's indentation.
See Also
Welcome!
Introducing XMLBlueprint
Working with files
Working with text
Creating and Editing XML
Validating XML
Working with XSLT
Working with XPath
Working with XProc
Working with JSON
Working with HTML, CSS and JavaScript
Working with XML Catalogs
Converting CSV files and Excel files
Generating Sample XML
Generating DTDs and Schemas
Customizing XMLBlueprint
Automating XMLBlueprint
Regular Expressions
Non-English Support
Appendix