Try & Buy
You can try XMLBlueprint XML Editor for free for 15 'evaluation days'. You have 15 days of actual usage, every day you use the product counts as a day. You don't have to register.
If you decide that you would like to continue working with XMLBlueprint XML Editor, you can purchase a Licence Key on our website: Click
Help > Buy Now! (online)...
from the menu bar, or open your favorite browser and navigate to
https://www.xmlblueprint.com/buy.htm

.
You will receive an e-mail containing your License Key. Click Help > Enter License Key... to copy & paste your key into XMLBlueprint.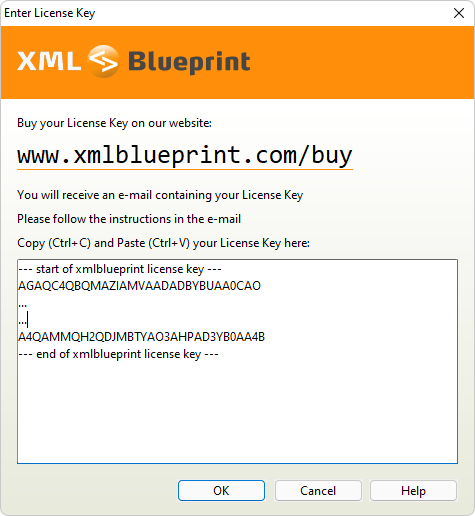 Welcome!
Introducing XMLBlueprint
Working with files
Working with text
Creating and Editing XML
Validating XML
Working with XSLT
Working with XPath
Working with XProc
Working with JSON
Working with HTML, CSS and JavaScript
Working with XML Catalogs
Converting CSV files and Excel files
Generating Sample XML
Generating DTDs and Schemas
Customizing XMLBlueprint
Automating XMLBlueprint
Regular Expressions
Non-English Support
Appendix