How to use XML Catalogs in XMLBlueprint
XMLBlueprint comes with a pre-installed XML Catalog. To see which schemas are supported by this catalog, click Options > XML Catalogs... and double-click the XML Catalog.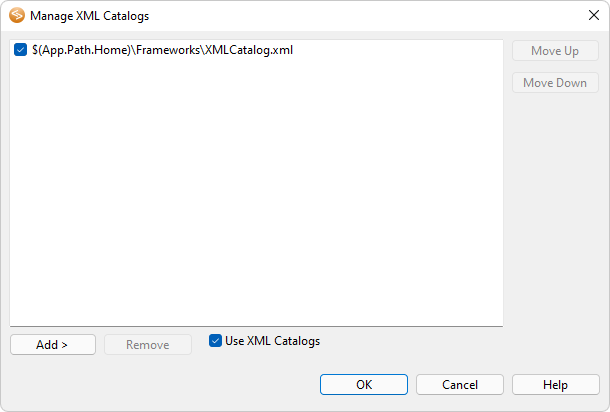 You can easy add additional XML Catalogs by pressing
Add > Browse..
, or
Add > FTP/WebDAV...
. Remove an XML Catalog by selecting the catalog and pressing
Remove
.
Only XML Catalogs that are checked will be used.
Check Use XML Catalogs if you want to use XML Catalogs, Use XML Catalogs is checked by default. The settings of the XML Catalogs is for all open documents.
Welcome!
Introducing XMLBlueprint
Working with files
Working with text
Creating and Editing XML
Validating XML
Working with XSLT
Working with XPath
Working with XProc
Working with JSON
Working with HTML, CSS and JavaScript
Working with XML Catalogs
Converting CSV files and Excel files
Generating Sample XML
Generating DTDs and Schemas
Customizing XMLBlueprint
Automating XMLBlueprint
Regular Expressions
Non-English Support
Appendix