Examples
To show the working of some important features, example files with instructions and samples are included.
To access the example files, go to Files view (View > Files) and select Examples: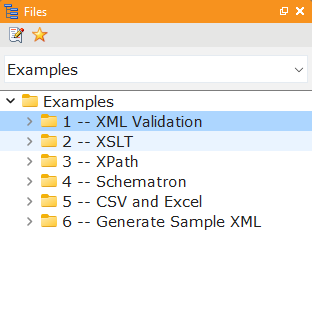 Select the folder with the feature you want to explore and then open the file starting with How to... to find the instructions.
Welcome!
Introducing XMLBlueprint
Working with files
Working with text
Creating and Editing XML
Validating XML
Working with XSLT and XPath
Working with JSON
Working with HTML, CSS and JavaScript
Working with XML Catalogs
Converting CSV files and Excel files
Generating Sample XML
Generating DTDs and Schemas
Customizing XMLBlueprint
Automating XMLBlueprint
Regular Expressions
Non-English Support
Appendix