XSLT Editor
XMLBlueprint is a powerful XSLT editor for Windows. It has numerous intelligent editing features that help you edit and transform XSLT Stylesheets quickly and easily.
XMLBlueprint benefits include:
Run your XSLT 1.0, XSLT 2.0 or XSLT 3.0 Stylesheets with your choice of XSLT processor.

Start the transformation from either the XML or the XSLT document.

No need to save your file before you start the transformation.

You can easily switch the output between Text and Browser format.

Choose how you want XMLBLueprint to handle the XSLT output, your settings are saved.

Your Stylesheet is automatically validated with with the active XSLT processor, showing the errors in the errorlist. Clicking on an error jumps to the error.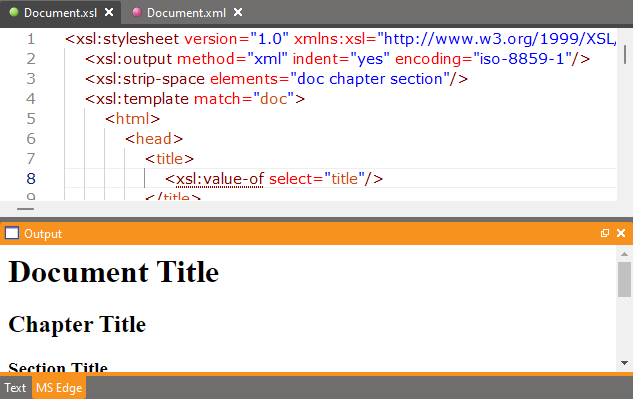 XSLT setup
From the active document, you first choose the XML or XSLT file to use in the transformation. Then, for the transformation output you can choose one or more of these options:
Preview in the Output view.

Open in an XMLBlueprint editor.

Save to a file.
You only have to setup once, the settings will be saved for future sessions.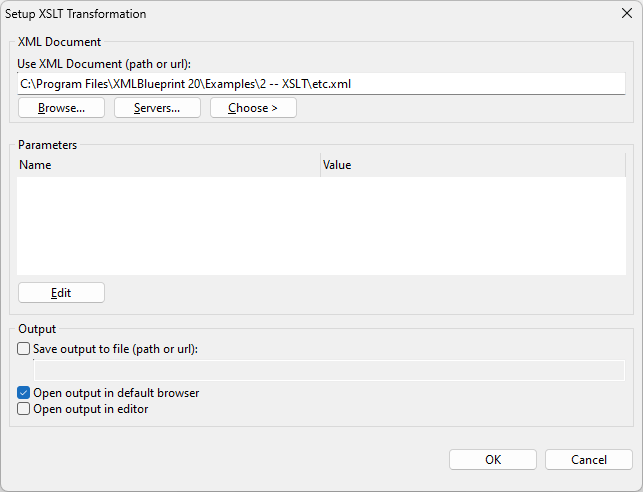 Supported XSLT Processors
XMLBlueprint supports the following XSLT processors:
| | | | |
| --- | --- | --- | --- |
| | XSLT 1.0 | XSLT 2.0 | XSLT 3.0 |
| MSXML 6 | yes | no | no |
| Saxon-6 (Java) | yes | no | no |
| Saxon-HE 9 (Java) | yes | yes | no |
| Saxon-PE 9 (Java) (license needed) | yes | yes | yes |
| Saxon-EE 9 (Java) (license needed) | yes | yes | yes |
Download a free, fully-functional 15-day trial of XMLBlueprint. There are no restrictions and you don't have to register.