XMLBlueprint XProc 3.0 Editor
The intelligent XProc Editor in XMLBlueprint has full support for XProc 3.0. Its unique combination of just the right features and an affordable price for both professionals as well as home users makes it the smart choice for all your XProc-related work. With XMLBlueprint you can edit and validate very large XProc files (1GByte and larger). With its intuitive user interface, XMLBlueprint makes XProc editing fast and easy. XMLBlueprint is the best choice for professional XProc developers and home users alike.
Download a free, fully-functional 15-day trial of XMLBlueprint. There are no restrictions.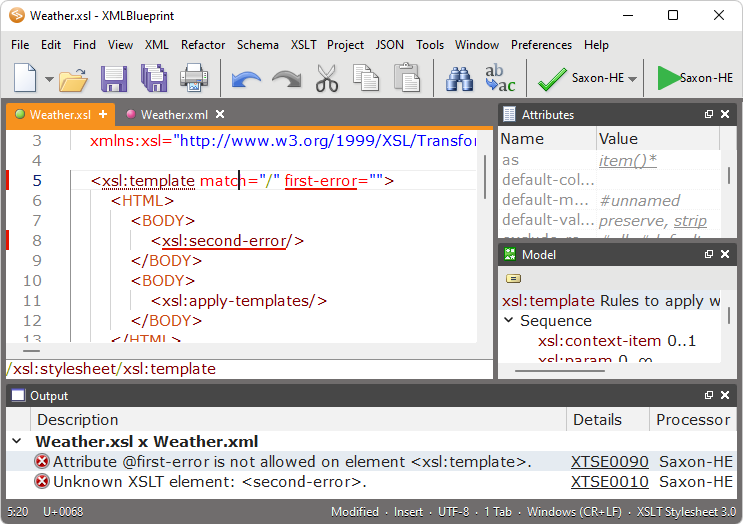 XProc pipelines are written in XML syntax, so you could use any text editor or XML editor to create and modify XProc pipelines. However, XMLBlueprint built-in support for XProc can greatly enhance your editing experience when working with XProc.
XMLBlueprint supports:
Automatic XProc Validation
Automatically underlines errors, as-you-type, in the XProc pipeline.
Intelligent XProc Code Completion
Suggests a list of relevant element names, attribute names and values to insert in the XProc pipeline.
XProc Breadbrumbs
Shows ancestors of the current element.
XProc Folding
Collapses some elements to focus on the remaining elements.
XProc Formatting
Indents elements and attributes in the XProc pipeline using spaces or tabs.
XProc Hover Help
Show information about the element or attribute that is below the mouse cursor.
XProc Indentation
Correctly indents the element after your press ENTER using spaces or tabs.
XProc Outline
Outline of elements and attributes in the XProc pipeline.
XProc Syntax Highlighting
Displays elements and attributes in different colors to improve the readability of the XProc pipeline.